Alexandra - 4 Seasons.
It's known as the hottest, driest and coldest town in New Zealand, and it's because of those extremes that Alexandra, in Central Otago, is a popular destination for national and international visitors. Whether it be during the heat of summer or the cold, crisp winter days, Alexandra has four distinct seasons and is a unique place to visit at any time of the year. Visitors can enjoy the many eateries, wineries, parks, artists' studios and the golf courses Alexandra has on offer. If you enjoy getting out into the wide, open spaces, there are many opportunities for recreation including boating, swimming, fishing or exploring the hills and valleys by foot, mountainbike or four-wheel drive. Alexandra is the heart of Central Otago and is situated at the junction of State Highway 8 and State Highway 85.
View From Our Webcam
Our webcam is positioned to provide a unique view of the town.
It regularly updates an all season panoramic view of Alexandra and surrounds.
Find out more..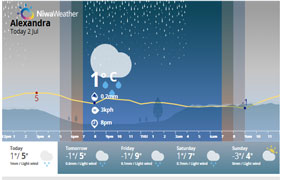 Today's Weather
What's the weather doing in Alexandra today?
Check out the forecast for the week ahead, or view the readings from the Pioneer Park weather station.
Find out more..
Major Events
Visiting Alex?
View Tourism Central Otago's official "Whats On" website and discover more things to do, in and around Alexandra.
Find out more..
---
Business Directory Listings
Need to find a service, tradesman, supplier? Find it here, Alexandra is the service centre of Central Otago. If you are local business and wish to have a free listing within the directory, please sign up.
---